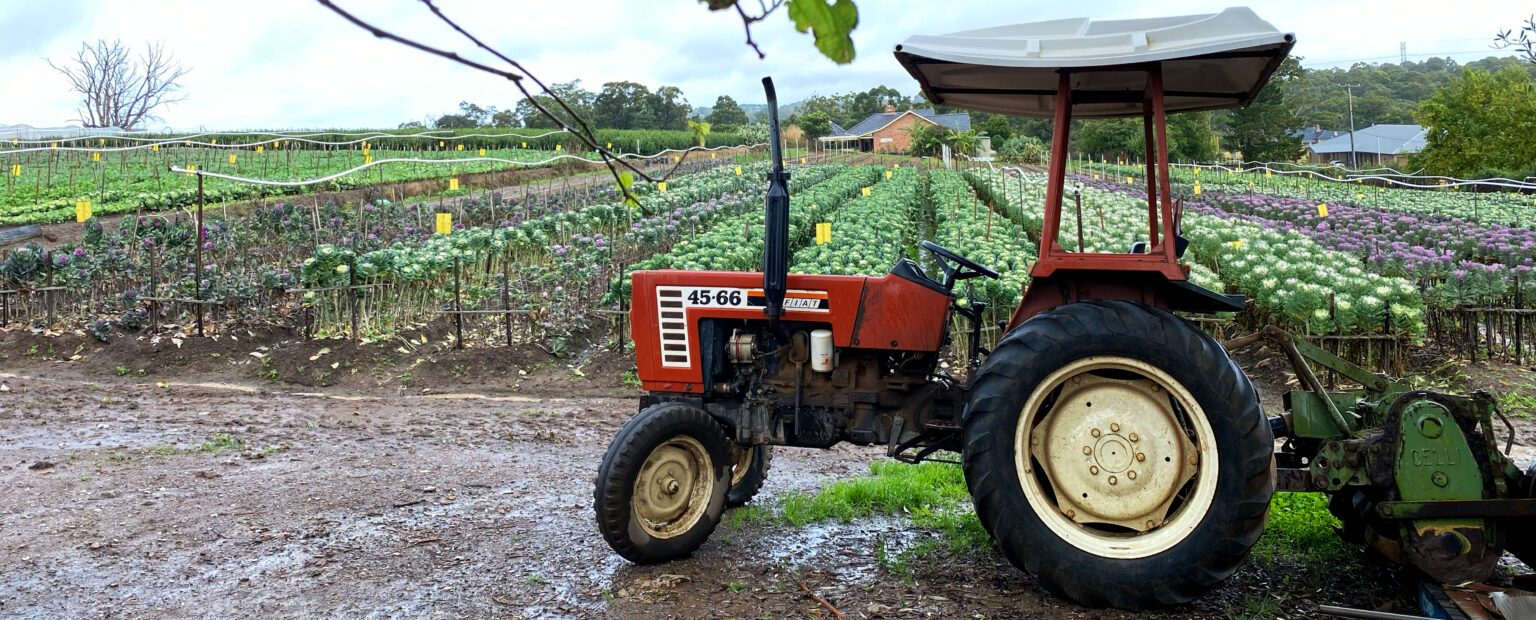 Little Flowers launched over a decade ago. Locally grown blooms and delivery by bike were the first items on our mood boards way back when we started in 2012. Since then we've learnt a lot, and we're continuing to learn and evolve our offering to reduce the effect we have on the planet and increase the benefits we give to the community and our local suppliers. When you send Little Flowers, you're making a more conscious choice to keep it local, and keep it clean!
WE THINK CAREFULLY ABOUT THE FLOWERS YOU SEND.
Many flowers come from overseas, flown and refrigerated. We're proud to say that only 5% of our flowers and foliage combined are grown overseas. We know that because we went through an entire year's worth of orders to check.
From the research we've done, up to a whopping 70% of the flowers at Sydney markets are from overseas and some come from as far away as Colombia. Flower availability in winter can be tricky, especially if we have wild weather, so we do sometimes use imported blooms. But we try really hard to avoid them. Which is why you'll find flowers like Tulips, Anemones and Kale in our winter bunches and Roses, Hydrangea and Larkspur in our summer ones.
WE MINIMISE FLOWER WASTE.
Our business model is based around the concept of zero waste. Because we have just one mixed bouquet a day, and customers trust us to design a beautiful bunch for them, it means we can utilise every single stem. We don't have to stock a multitude of options 'just in case', which then go to waste.
We also have a policy that no bunch should go unloved. So, on the rare occasion that we have a few leftover bunches, we make sure they go to a good home, care of our friends at Meals On Wheels. Or you might even find us jumping out of the Little Flowers van at a bus stop to surprise someone with a bunch, just because.
When it comes to waste, we also like to get creative. If stems break and flowers can't be used in a bunch, then we save them to go in a Little Vase. Or if an order goes awry at market and we end up with way too many blooms, we might do a flash eco sale so they don't go to waste. Once, we've even donated a heap of foliage to a competitor! Yep, we're all in this together.
WE DELIVER EFFICIENTLY.
Call us romantics, but we love nothing more than seeing a bike basket filled with little flowers, ready to be delivered across Sydney. It's our preferred method of delivery. And not just because it looks pretty. Petals delivered by pedal power means our flowers are extra green. We've been delivering flowers to the Inner West and Sydney CBD on bike ever since we launched And we love that it's helped keep our carbon emissions down.
For any deliveries further afield, we always batch up our flowers and dispatch them in one go, with different drivers, who can all go by the most efficient route that day. It means our couriers can drop flowers off quickly and efficiently, and is another way to keep our carbon emissions as low as we can. It's how we've always done it. For over a decade.
WE CONSIDER OUR PACKAGING.
Some florists use excessive, elaborate coated paper and plastic wrapping to make their bouquets look that bit more fancy. And others use way too much plastic to wrap because it's cheaper. We've always favoured minimal, biodegradable hessian wrapping, or just simple recyclable paper. And our message tags are made from responsibly sourced card.
WE AVOID NASTY CHEMICALS.
Bleaches, dyes and adhesives are often used to create preserved flowers and floral foam breaks down into tiny microplastics. These items are in abundance in the Australian flower industry, but we are pleased to say we have never used them.
WE ARE ALWAYS LEARNING.
We think we're doing well when it comes to the environment, but we think we can do more. We're committed to continuing to learn and evolving as we go. And we're committed to collaborating and partnering with like-minded people and businesses as we learn. You can check out our blog posts here if you'd like to keep reading. And also follow us on Instagram or facebook for more news as we evolve.